Beppin's Inauguration: Beppin Day 1944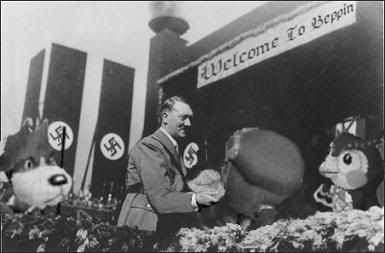 Looking through my old photo's, as one does, I came across this gem. Taken on the 6th of December 1944, this was the day Beppin became a reality. To celebrate the beginning of a new order, I invited Herr Hitler to be our special guest. I really thought he wasn't going to make it as there was so much work to do in Berlin at this time,... bad times for the Third Reich indeed. But he made it. I remember thinking to myself that I'd taken on too much in making Beppin, and that it wouldn't get off the ground at all. But come that date, it all came together. And Herr Hitler even managed to present me with the first ever piece of furniture for the town (as pictured), it was a spanking new Exotic Bench, wonderful choice mein Führer,... I still have it stored away, and often sit on it in silence remembering how far we've come. I miss you Herr Hitler. I miss your friendship and guidance every day.
Pictured to the left is a fresh faced Brigadeführer Copper K. Dog, a longterm friend in the Wehrmacht who also earned early honourable discharge from the army for performing services of extreme valour. I don't believe Beppin would be the place it is today without the insight and experience of Copper. On countless occassions his viewpoint and ideas have questioned my own and given me so much more perspective in Beppin's formation. It was an obvious choice for Copper to man the gates of Beppin, he knows who should pass through and who shouldn't. Copper's role has been instrumental in making Beppin what it is today, and seeing this photo just brings back so many memories of sitting down with a pilsener, and discussing the future, with my good friend Copper.
Pictured to the far right is a very young Oberschütze Blathers M. Owl. Where do I begin with Blathers. Perhaps the best way is to recount one of my first personal experiences with a young Blathers. As a specialist in natural history, I had assigned Blathers to oversee all organisation and planning of the Beppin Museum. In our formative stages, Blathers had mentioned to me his fondness for certain elements of the museum, but rather disparaging discomfort with others, namely insects. I had written this off to sheer eccentricity, that was until I presented young Blathers with a small butterlfy I'd captured during my surveying of the town one day. Upon receipt of this inoffensive little specimen, Blathers seemed to lose all common sense and began to behave rather panicky. The poor old bird has an inate fear of insects that has now become famous and regardless of how many the museum receives, he still can't get used to them. His attempts to always keep a lid on the insects I've passed over to him have always brought a smile to my face. His passion for history and nature are wonderfully juxtaposed with his uniformly extreme hatred of anything with more than four legs. Which brings to mind Blathers' quiet words to me before I accepted the presentation from Herr Hitler: "I think I just saw a ladybird in those flowers. If I see it again I'm afraid I'll have to leave, wot wot."