Beppin Cross Fever!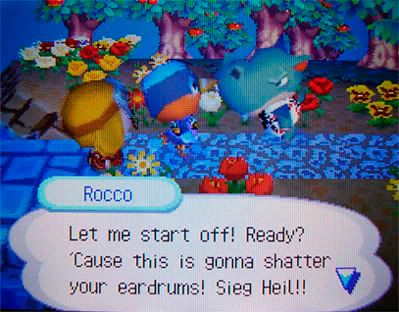 It seems that Beppin Cross fever has gripped the nation, judging by the spectacle I just witnessed on the Beppin foreshore in a little conversation between Robin and Rocco. Such a powerful individual bearing testament to Beppin at such volume gives me goosebumps just recalling the memory.
Rocco L. Hippopotamus recently moved to Beppin from parts unknown, but has taken to life here incredibly quickly. It almost seemed like overnight that Rocco changed from confused new resident, to a passionately active Beppian. This is even more of a surprise due to his age. The older we get the more set in our ways we become and my initial impression of Rocco was of a rather abrupt and closed minded individual who lives his life by his own rules. Well, it seems that Beppin has brought the best out in him as he has settled in very well and always seems to be in his element as an advocate for the values of Beppin.
Although I've not yet received an official nomination for Rocco in the runnings for this years Beppin Cross, I see him as a genuine contender. The way Rocco has proclaimed his love and allegiance to Beppin over the past few weeks has served as a model by which I wish all new residents to our nation would live by. The passion and love of one's albeit adopted nation is something that I highly value. Unlike Herr Hitler, I do believe that individuals from different nations can come together as one to make an even more powerful entity, afterall, we don't choose our own place of birth, but we do choose where want to live. Moving to Beppin and adopting our ideals is not something one does on a whim.
Conversely, I never enjoy seeing Beppian's leave our fair nation, but sometimes I do believe it's for the best, in sometimes not so obvious ways. In sad news today Hauptscharführer Wolfgang C. Wolf moved away. After much discussion he convinced me it was the right thing for him to do. We all need to move on sometimes, and even though his presence in the Beppin SS will be very missed, I do understand his need to move on, and to spread the word of Beppin to new regions. I wish you well Hauptscharführer Wolfgang C. Wolf, your spirit lives on in Beppin and your work lives on in Schütze Roald D. Penguin. I hope what you've learned in Beppin serves you well and that you prosper in your new home. There will always be a place for you here though, and Beppin will always welcome you back with open arms.
Hauptscharführer Wolfgang C. Wolf, I salute you.