Beppin Cross Winner 2006: Who will it be?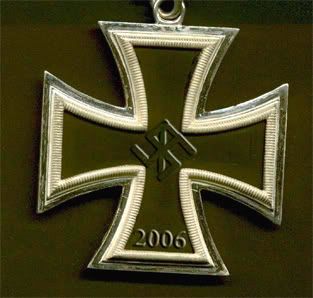 I do love July. Not only has it proven to be a month thats a wonderful time for collecting insects and fish in previous years, but its also the month that I get to present the most prestigious medal of our nation: The Beppin Cross. This medal is awarded to the most active and loyal citizens of Beppin and is a reflection of the conviction and passion an individual displays for their country.
It's an even more exciting time this year as the award is open to all citizens of Beppin for the first time. Previously, the Beppin Cross was exclusively awarded to the military, but this year any citizen can be nominated. I've received some very interesting ones too, from some very confident citizens, and I quote:
"Dear Baron,
Please give me the medal. I've been a very good Beppian for the last year and have done everything possible to make Beppin the bestest place ever! I didn't even move any of the flowers during Flower Fest! You need only ask my neighbours, Marina and Rocco, about how much I love this place. I LOVE BEPPIN!! PLEASE give me the shiny new medal!
Love and Hugs
Pippy Rabbit"
This is just a mere sample of the calibre of letters sent to me this week. It's going to be a very tough choice, but I think the one, truly deserving citizen will stand out from all the other entries. I'd like to thank everyone for their nominations, and the recipient of the 2006 Beppin Cross will be announced on Sunday, 16th of July, with a presentation to the individual the following Monday.
Its always such a pleasure to be able to reward the citizens of Beppin so overtly, and make them feel that special connection to our nation that I feel every day.
Good luck Beppians! Keep those entries coming in!