Conclusions And Beginnings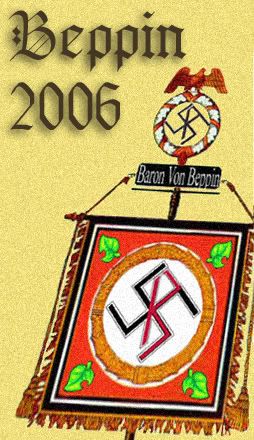 I received some very, very welcome news today. Indeed, some of the best news this old Baron's been privy to for quite a while. Through the vast network of underground communication networks, I've been informed that Herr Rocco L. Hippopotamus is alive and well and enjoying his new life in his newly adopted nation of Strelley. Strelley's location in relation to Beppin is thousands and thousands of miles away, and it dosen't surprise me that this information has taken as long as it has to get back to me due to the sheer logistics of the distance involved.
Frau Alleycat was brief in her communique, but the news spoke volumes more than its mere words read. The mystery of Herr Rocco's disappearance can finally be laid to rest,... much like I had thought Rocco had been. There's something incredibly satisfying about trusting your instincts with individuals and then having them be fully realised. Herr Benedict's innocence in this matter was proven long before this, but it would be only natural to have some suspicions in the back of one's mind without the the proof of Herr Rocco being alive. Thankfully this matter has concluded in the best manner I could imagine.
I do hope Herr Rocco finds the life he is looking for in Strelley, and maybe one day Frau Alleycat will find out why Herr Rocco's opinion of Beppin seemed to change almost overnight. Thats one mystery that is yet to be solved, but I can definitely live quite happily with this unanswered question now that I know with certainty he is alive and well.
As this chapter on Beppin's history finishes, another begins. Now that this incident is well and truly behind us, myself and Herr Benedict can fully dedicate ourselves to our new project of creating Beppin's Dinosaurierabteilung. We have pooled our information and are using the resources of the Beppin SS and taking onboard Oberschütze Blathers M. Owl's wealth of knowledge on the subject. Our group meetings have proven to be very interesting so far, and its looking very promising that we can get this underway very soon.
Beppin's citizens have also voiced their support of developing the Dinosaurierabteilung. Since I posted our plans on our bulletin board, many citizen's have offered their support and have begun collecting fossils in earnest. Very encouraging and will go a long way to bring this plan into fruition.
Even with the evil Todesstinger still at large within Beppin I believe our nation is on the brink of a new age of glory and prosperity. Wish us well in our experiments as we bring the past back to life for the honour of Beppin.
Heil Beppin!