The Ebb And Flow Of Beppin's Citizens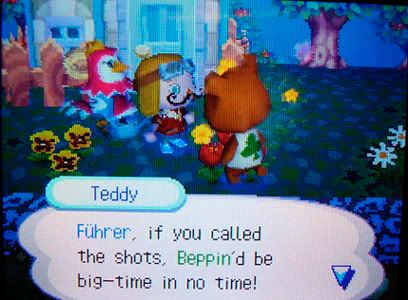 Its odd how things sometimes happen all at once. How for weeks on end there seems to be little change, then, literally overnight, there are sweeping changes to the Beppin landscape. This has happened in regards to a recent reshuffle in current Beppians. Quite what has brought this on in such a short space of time isn't something I understand. I'll put it down to coincidence. I think if there was a more sinister reason the Beppin SS would have definitely picked up on it. Still, it's a nice change and keeps things fresh and interesting. We always welcome new residents to Beppin and if it means losing some current residents then so be it.
The first move happened Monday night, Frau Pippy M. Rabbit disappeared to new pastures, with the only notification to myself being a short letter that came with Tuesday morning's post. Frau Pippy was always an odd little rabbit. She was definitely one of a kind and although she wasn't what I'd call a learned colleague, I'd definitely say she was a true champion of Beppin's values and way of life. Farewell Frau Pippy, I'll miss seeing you running around Beppin for no apparent other reason than your own personal amusement on my regular walks.
Following Frau Pippy's departure a certain Teddy S. Bear set up residence on Beppin's south eastern foreshore. I've been quite taken with Herr Teddy so far, he's warmed quite quickly to the Beppin way of life much to my pleasure. Then again, he is the neighbour of Oberstgruppen-Führer Benedict G. Chicken who's magnetic personality and love of Beppin can be very infectious. I do think Herr Teddy could be excellent material for the Beppin SS, so I made a point of posting him some information regarding membership benefits and roles in our little organisation this morning. The future looks bright for Herr Teddy.
The next change occurred that night with the moving of Anchovy W. Bird. I'd like to say I'll miss Herr Anchovy, but really, I think the values and ideals of Beppin were wasted on him. He was only a recent resident to Beppin and had never really fitted in. I don't know how many times I'd heard from other residents that he wasn't getting on well with other Beppians, often much to my surprise when asked about it. Herr Anchovy's unsettled attitude towards other Beppian's was good cause for him to move. If one can't get on with one's fellow townspeople then it is time to find a new place to call home.
The last part of this mini reshuffle was the arrival of Frau Friga I. Penguin. She arrived a bit under the weather unfortunately and was quite ill when I visited her house this evening. Thankfully Herr Nook still had some medicine in stock that I quickly purchased for her, which made an improvement to her demeanour almost instantly. Frau Friga was very appreciative and her manners and polite attitude was very welcome. I imagine it was the long journey from her previous country that brought this illness on, but one can't be too sure.
If this becomes a trend of newcomers arrivng with some kind of malaise, I might have to organise a meeting with Bürgermeister Tortimer F. Tortoise regarding the possibility of a quarantine facility at Beppin's gates. The last thing we need is a rash of new Beppian's spreading disease throughout the country at the expense of current residents. I'll keep my eye on the next batch of newcomers and evaluate the situation from there. Rest assured some form of action will be taken if this continues.