The Embodiment Of Beppin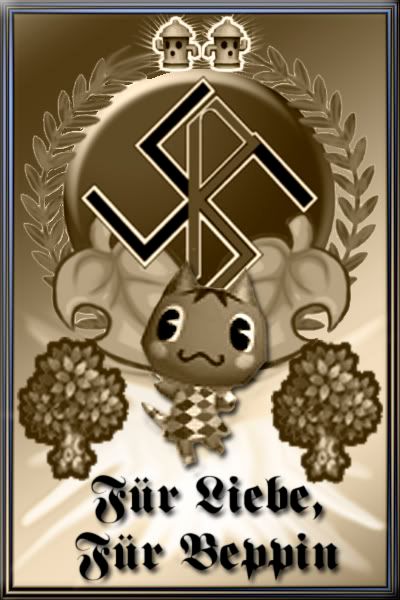 During the week a new resident arrived. Without any pomp and ceremony, they moved to Beppin. Upon my first visit I was awestruck by the presence and beauty of this New Beppian. Her name is Frau Rosie B. Cat and she has made an impression on me which I will not be soon to forget.
From her first sentence to me, I knew she was special. Frau Rosie expresses herself in a manner that is quite startling at first. Her frankness and honesty is without question. She speaks from the heart and dosen't pander to anyone. Frau Rosie has moved to Beppin only recently but I firmly believe she's been a true Beppian all her life. She has so many qualities that I define as Beppian that it stunned me the first time I talked with her.
Frau Rosie is her own person. She concedes nothing and expects the best from everyone as that is what she personally strives to be: the best citizen she can be. It's such a wonderous event when residents move to Beppin who know, in their heart of hearts that Beppin is their home. Not just geographically, but personally and, indeed, spiritually.
From Day one Frau Rosie has blended into the Beppin population in a manner I've not seen since, since.... well, since Frau Sally H. Squirrel. She is the embodiment of all Beppin holds true, and from her daily shopping at Herr Nook's to her evening insect hunting: everything she does, she does for the glory of Beppin.
This kind of individual is so rare, I count myself lucky to have even met her. Frau Rosie obviously moved to Beppin as she knew what we our nation is about. I don't yet know where she emigrated from, but it's clear to me that Beppin will be her home for quite a long time. My heart soars when I see her talking to other Beppian's and exchanging stories and furniture. She always leaves them feeling happy and never fails to make a positive impression anywhere she goes.
Indeed it is this reason I've decided to make Frau Rosie our new poster girl. She brightens everyone's day so much that I believe she'll be the perfect ambassador for Beppin. Frau Rosie jumped at this opportunity and we are both very pleased with the results, as evidenced above, in the lastest promotional material being distributed in Beppin.
It's been comfortable and properous times in Beppin of late. After the dark hours of Herr Benedict's aforementioned incident, it is so encouraging to come out of the darkness with such a wonderful new resident of our nation. Although the evil Todesstinger is still present, my faith and optimism have been raised, and I owe it all to Frau Rosie B. Cat, a true maiden of Beppin.