A Special Day For Herr Benedict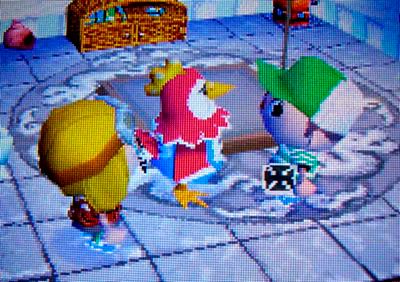 Beppin Cross 2006 Awards Presentation. From left to right: Baron Von Beppin, Herr Benedict G. Chicken and Herr Gary of Big City.
I wanted to make this year's Beppin Cross presentation a little bit more special than usual. As Herr Benedict G. Chicken is a very special recipient, I wanted to go the extra yard and make it just that little bit more memorable. I then thought of a wonderful idea: to have the Beppin Cross presented by a special guest.
The usual Beppin Cross ceremony is held in front of the town hall, with myself and Bürgermeister Tortimer F. Tortoise doing the honours to an audience of all Beppin's citizens. Due to the time of year we present it, its usually a nice sunny day and a small working party organises a special array of flowers for the event which is concluded with a procession around Beppin's tree lined thorughfares, finishing at Point Beppin along our coastline. We do pride ourselves on tradition in Beppin, but I for one will never shy away from change.
As a sign of the times, and the inclusion of civillians in the nominations of the medal, I thought that we should tailor this special occassion to the individual recipient's personality and interests. Even though Oberstgruppen-Führer Benedict G. Chicken is primarily an officer of the Beppin SS, he is still a very creative individual and, as I stated yesterday, it was this creativity in interior design that resulted in his recieving of this prestigious award.
To this end I thought a more intimate ceremony would be the order of the day, and it should take place in Herr Benedict's home as well, afterall, this was own personal expression of his unbridled artistry. I didn't think it was entirely a great idea to try and cram all of Beppin's citizens into Herr Benedict's living room and front yard and instead, for the actual presentation, I though just myself and a special guest presenter would be nice idea. Then Herr Benedict's glorious Parade of Heroes around Beppin can involve all other Beppians.
As far as special guests go, it took me quite a while to come up with one that would be a recognised personality to Beppian's and also a champion of Beppin's ideals and values. After a short list was prepared my first choice was Herr Gary of Big City. Herr Gary has been a longtime supporter of Beppin and has had no small part in aiding myself in furnishing Beppin's National Museum, and also my own private residence. His honour and respect for Beppin's ideals and values have always been very widely appreciated by myself and other Beppians. I was elated that he could fit this event into his busy schedule and the rest, as they say, is history.
As evidenced in the photo capturing the presentation, the sheer wonder and imagination one experiences in Herr Benedict's home still gives me goosebumps. From his centre piece Igunandon Skull to his inspired use of Backyard Fence wallpaper, his house is a testament in avante garde interior design. Herr Gary's complete speechlessness upon entry to his house spoke volumes.
As part of Herr Benedict's "thank you" speech, he was most appreciative of other Beppian's who have supported his work, in the SS and in regular social life. He cited Beppin itself as his major inspiration for his interior design, and that it reflected the ever changing landscape of his beloved country.
During the Parade Of Heroes after the presentation, it was on more than one occassion that I noticed a tear roll down Herr Benedict's proud beak. Seeing such devotion, and deep appreciation of this elite decoration made this old Baron shed a small tear as well. A tear of joy, a tear that was shared with my dear friend, Oberstgruppen-Führer Benedict G. Chicken: the truly deserving winner of the 2006 Beppin Cross.