A spotlight on the staff of Beppin Post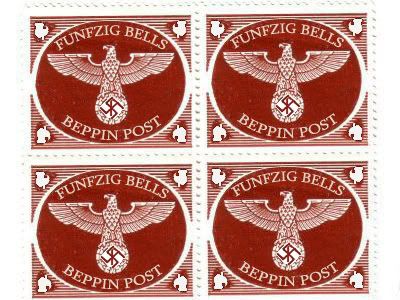 Inaugural first issue sheet of Beppin Post B50 postage stamps, from my personal collection
As mentioned yesterday, I'm receiving lots of entries for the 2006 Beppin Cross medal through the post. I thought this would be an ideal opportunity to sing the praises of Beppin Post and their office in the Town Hall. During the formative stages of getting our little country together, it was imperative to get a fast and reliable postal service organised to ensure that all projects were coming together as planned.
Early discussions with Bürgermeister Tortimer F. Tortoise lead us to how important staff would be and that the personnel are the back bone of a good postal system. From this point we secured three valuable individuals: two sisters, Pelly and Phyllis Pelican and 3 times decorated Wehrmacht envoy Unterfeldwebel Pete B. Pelican (no relation to the sisters).
The daring stories I'd heard of Unterfeldwebel Pete's heroic adventures in delivering valuable documents throughout the Third Reich's SS, Gestapo and Wehrmacht officers were the stuff of legend. On one occassion an enigma machine breakdown on the Russian front required fast delivery of crucial strategic information to Berlin, in the middle of winter with virtually zero visibility. This task was nigh on impossible, but Unterfeldwebel Pete managed to complete this mission in record time and singlehandedly intercepted Allied communiques regarding their presence in France during his passage. This was the first mission he was awarded a medal for, but it wasn't to be his last.
His well decorated service in the Third Reich made him an excellent choice for the auspicious role of being Beppin's postman. He took to this important role with aplomb and has never missed a delivery since his commission. This committment to mail delivery combined with his military past has been crucial in all postal activities in Beppin.
Of the Pelican sisters, Frau Pelly K. Pelican is the more easygoing and carefree, providing a balance to her markedly more uptight and bitter sister; Frau Phyllis Z. Pelican. Such polar opposites in physical appearance and demeanour make me wonder if they are indeed sisters at all or have a different mother or father. It is not my way conduct unwarranted questioning of the citizens of Beppin regarding their pasts or family history. Everyone starts from scratch in Beppin and begins their lives with a clean slate. If however, they fall into old behaviours that could be deemed detrimental, or a possible threat to other Beppians, action and investigation will have to be done, courtesy of the Beppin SS.
I trust Frau's Pelly and Phyllis with the handling of nearly all correspondance through Beppin (with the exception of the odd message in a bottle from far away shores), but this great responsibility means that if there is something amiss with Beppin Post, they will be the first individuals questioned. A great responsibility indeed, and one they've done with pride and honour for many years of service.
But I digress. Beppin Post has been an institution of our country of which I'm very proud. From its inception it has been a jewel in the crown of our achievements and I would like to take this opportunity to personally thank the Beppin Post staff for all their tireless work: with every delivery, you make Beppin a stronger, prouder and more efficient nation.