The New Look Beppin Science Lab
After quite a bit of work this weekend, I have successfully converted the first floor hall of Baron Manor into the Beppin Science Laboratory. It's been a good opportunity to clean out some furniture I'd been hoarding, for little real purpose, and reorganise my wardrobe storage, which has been long overdue.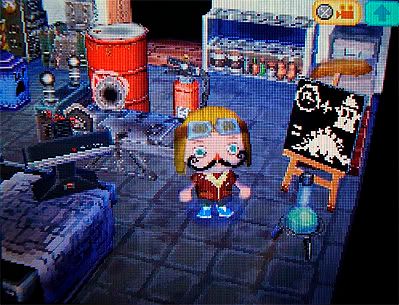 Beppin Science Laboratory Eastern Division
The Eastern Division of the Lab (pictured above) is primarily for research and theory work. This area contains easy access to most of my notes and necessary documentation. Storage wise, this area contains my newly acquired medicine chest (thank you Non-Stop) and a storage cabinet for quick access to stored fossils and other ingredients. I keep a sample of Amber here for constant monitoring and testing, along with a florence flask that is often used in some of the formula creation necessary for the ressurrection processes.
My recently purchased drum of flammable liquid and fire extinguisher (just in case things get out of hand) are also visible, along with an electrified bench that I plan on using in further gyroid experiments. Possibly combined with the flammable liquid. This new space gives me a lot more room to move around and I can quite comfortably study up on my documentation while experiments are conducted in the Western Division of Beppin Labs, pictured below.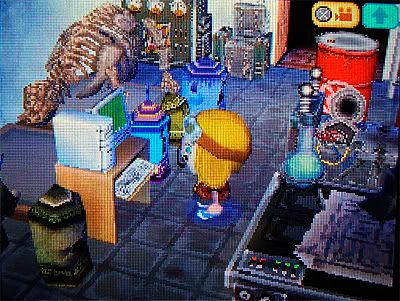 Beppin Science Laboratory Western Division
Most importantly, this extra amount of space has allowed for much more room for gyroid placement and testing. The amount of gyroids I can use has also increased, which will allow for much more consitency in the testing. A new computer courtesy of Herr Nook, allows me to record all results without having to be far from the project, allowing for instant data input and recall when time is short. My voltulator and electric chair fit very nicely into the top left corner of this area, which will make the life force extraction from the gyroids a substantially easier process.
I've begun some preliminary work on the Ankylosaurus specimen pictured, not a great deal, but attempting to sort out some of the logisitics regarding the gyroids needed for this dinosaur's resurrection. Indeed, the resurrection process is highly reliant on the types of gyroids used and it would seem there is some, as yet, unknown equation that will decide the type of gyroid to use with certain breeds of dinosaur.
This is something the Third Reich failed at, and is one of the main reasons plans were abandoned. But the Third Reich didn't have Baron Von Beppin and Oberstgruppen-Führer Benedict G. Chicken working on the project! I'm sure we can work it out, even if we need to employ some outside consultancy, I do believe we'll have our Dinosaurierabteilung up and running in no time.