Of Anthems And Flowers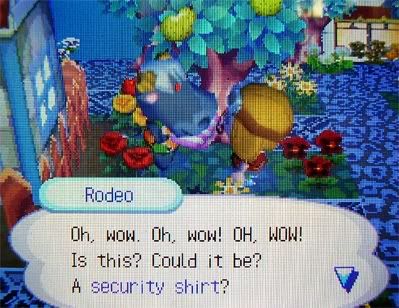 Herr Rodeo has definitely made his presence known in Beppin recently. As soon as he'd unpacked his belongings in his new abode he set about joining the Beppin SS. After a brief induction by Obergruppenführer Cyrano F. Anteater, I presented him with his new uniform, as pictured.
His spirits were very high and I thought this a good opportunity to make himself more well known to the Beppin Elders. I asked him if he'd like to attend an informal meeting of the Heads Of Beppin this evening in the quarters of Bürgermeister Tortimer F. Tortoise on the second floor of our town hall. Unsurprisingly, Herr Rodeo was very pleased amd excited to attend.
Even more satisfying was how the Beppin Elders took to Herr Rodeo. His physical size and distinguished features made quite an impression. During our discussions over this weekend's La Di Day festivities, Herr Rodeo came up with some excellent suggestions involving having residents also come up with a national musical instrument that our national anthem can then be played on in everyone's home, as an ongoing celebration of this very nationalistic event.
Herr Nook agreed that this idea was something he'd be proud to be part of and produced his master catalogue, citing available instruments to make a short list from that we can then put to Beppin's citizens to decide. Once one is declared the winner, every Beppian shall receive their instrument in the post to place in their house. I do believe this is stellar idea from Herr Rodeo and is a great start to this new chapter of his life in his newly adopted country.
I also issued Herr Rodeo with his first official duty in the Beppin SS. It's come to my attention that a citizen is moving flowers around our country. Placing them in seemingly random places that puts our entire flora system out. The flower lined cobble stone thoroughfares of Beppin are more than just common paths, they are a national treasure of our country.
I personally made it a project of mine to link all Beppian's houses together with hand tooled walkways that allow not only Beppin's residents to get about their business more efficiently, but also for visitors to Beppin to find their way around more easily. There's been many a time a first time visitor to Beppin has commented on the charm, beauty and effectiveness of our streets and the flowers lining them.
For a Beppian to move these flowers for "fun" or as some kind of jape, is unacceptable behaviour. Every house has room for their own flower garden which every Beppian can plant their own native flowers in, but relocating flowers from their designated places isn't tolerated.
I'm confident Herr Rodeo will find the culprit committing this civil disobediance and I'm sure he has his own ideas about how to make sure the individual dosen't do it again. I look forward to discussing his findings with him tomorrow.