A Very Special Day In Beppin

Yes, its a very happy day in Beppin today with the celebration of Beppin's favourite son: Oberstgruppen-Führer Benedict G. Chicken's birthday. I received mail last week from Herr Frobert Z. Toad that Benedict's birthday was imminent, so I've been preparing much of this week to make it just that little bit more special.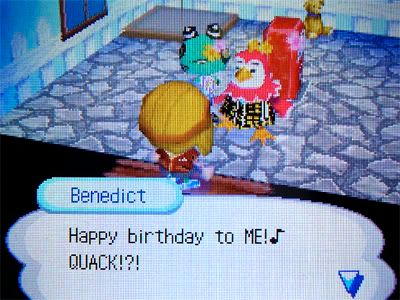 Upon arrival at his Beppin Foreshore estate, Herr Benedict was in very high spirits. It would appear he's been rightfully celebrating all day long and the rosie glow around his beak was very welcoming. I could barely get in through the door before he was wrapping his wings around me and playfully teasing where his present was. Herr Frobert was dancing about in a rather joyous manner and we both raised a glass to Herr Benedict's good health.
I said to the birthday chicken that I had a surprise for him, as well as the present he kept goading me for, and after I convinced him to close his eyes for more than a second, I produced a special birthday cake for his special day: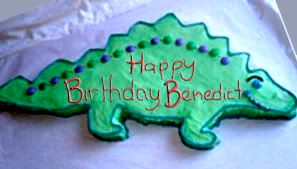 Herr Benedict is notorious for his sweet tooth, so I knew he'd appreciate a lovely vanilla sponge cake with jam and cream between the layers, and lots of icing on top. As I was thinking of ideas for the cake I knew I'd have to tailor it to Benedict's passion of fossil collecting. Upon this unveiling Herr Benedict yelled "Unsere Ehre heisst Beppin!!" and immediately tried to mount the cake like it was a real dinosaur, much to our laughing mausement. He pulled up right in front of me, and winked and whispered: "Not just yet Herr Baron, eh? Not just yet." His new found passion for Beppin's Dinosaurierabteilung since his return has incresed our productivity in experiments tenfold, but as Herr Benedict knows, its patience and tenacity that will bring our dreams to reality.
After he blew out his candles and made a wish, we had a piece each and watched the sunset over the Beppin coastline. We were all quite merry by now and began singing old war songs and anthems from the old days. Our celebrations continued well past the suns dipping below the horizon and into the inky darkness of these chilly autumn evenings. As I refilled Herr Benedict's glass, for I'm not sure how many times, he sat upright and with much sobriety in his voice said:
"Now, how about that birthday present Baron."
I'd been holding on to a special item in my wardrobe at Baron Manor for quite awhile, thinking I'd find a good use for it, and as soon as I found out about this impending birthday, I knew I'd found a new home for it. What with Benedict's love of fossil's and the rarity and value of this piece, I thought it was only fitting.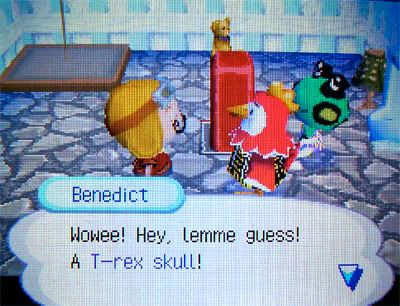 His elation and happiness were only surpassed by my own as Herr Benedict desperately ran about his house looking for a place to display his new fossil. It's heartwarming to see such unbridled, almost childlike, joy from a head officer of the Beppin SS. It brought a very contented smile to my face as I could see the special plans we'd made had resulted in an extra special birthday for Beppin's favourite son.
Our night went on, with more drinking, singing and reminiscing over past victories and losses and loves and dreams. Once the clock struck 11pm I knew I should be heading home to Baron Manor as I had to be up early for tomorrow's Acorn Festival work.
On my departure Herr Benedict wrapped this large powerful wings around me one last time, and thanked me for the best birthday he's had in a long, long time. I told him is was my pleasure and that we all need to step back and celebrate every so often and with his birthday so close to the time he returned to Beppin; it had to be that little bit extra special.
As I was leaving I looked him in the eye and told him he'd better stick around now, or theres going to be hell to pay, in the most serious tone I could muster. To which he replied:
As I walked back home to Baron Manor, I had a smile on my face, a tear in my eye, and a glow in my heart. I feel almost guilty that I got such a wonderful present on someone elses birthday.